Play Only with Your Group.
See the Calendar
$40 per player.
$320 private party minimum
Plan to be on site for 4 Hours
Players will be exhausted.
Includes everything you need to play: Gun, goggle, camo Jacket, body armor, metered paintballs & compressed air or CO2 tanks.
--------------------------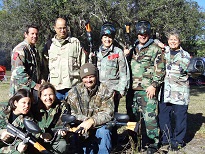 Join a Green Day!
Play with others!
See the Calendar
$30 per player.
Small Groups and Single players, this is your day!
Everyone is welcome to join these Days! Walk-ons welcome.
Includes:
Gun
Goggle
Camo jacket
Air to 2500 PSI
500 paintballs.
additional paintballs $10 per 500.
See the Calendar
Attention Paintball
Warriors!
New for Summer 2015
Due to warmer weather we are making a change for our green weekends.
This change reduces the distances between bases, and number of objectives. This will allow more games, and a faster start.
We will be playing our Classics:
Capture the flag.
Bomber
Three Story Tower
and more!
Please be onsite at 9AM so we can get Started faster.
It's never too early to Reserve your Gear for a Green Day!

Camping: No Camping during the wet Season.